How to cut the film for installation of Easy Pass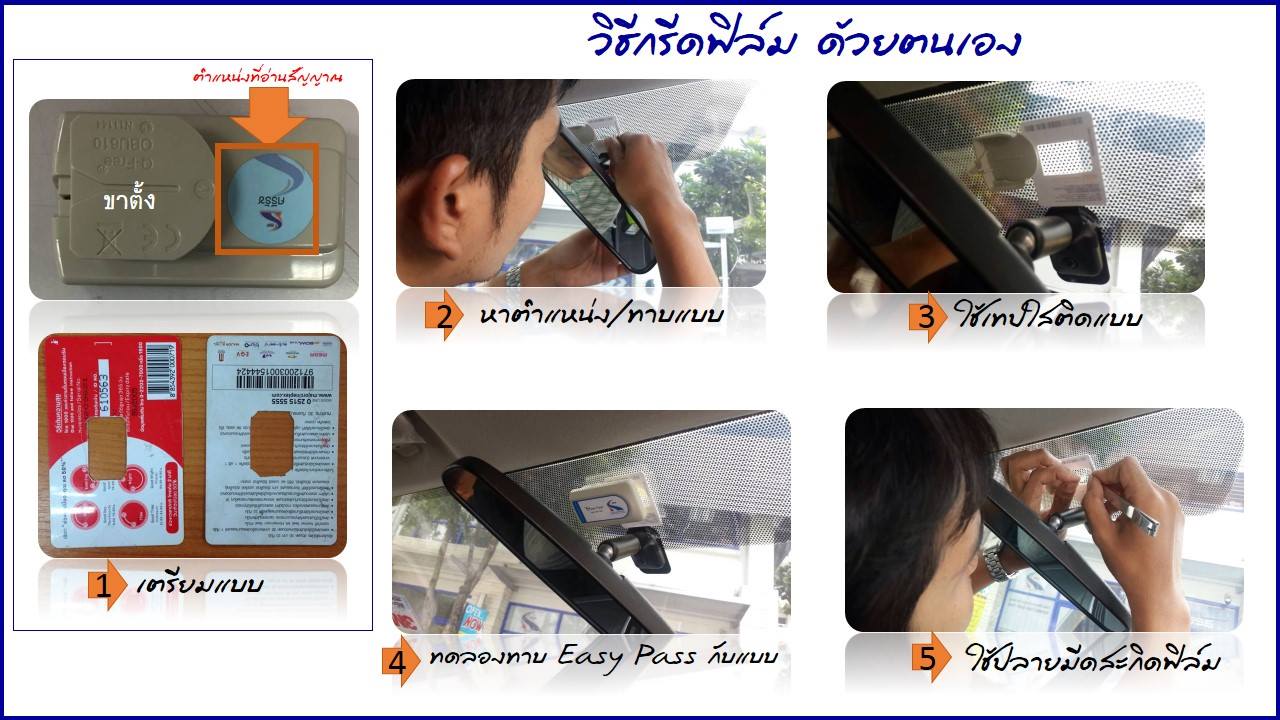 How to cut the film for installation of Easy Pass
In case the car of user of Easy Pass cannot pass through by Easy Pass, this is because the filter film is a mixture of mercury, which will reflect the wave, and make it unable to read the Easy Pass card. The user must lift or wave the equipment outside the car. The Expressway Authority of Thailand thus asks for your cooperation from the user. In case the filter screen contains mercury, please cut open a small gap in the film for installing the equipment. Thus the Expressway Authority has the following instructions....
1) The user should contact the automobile accessory shop to have them cut the filter film open (may need some expenses).
2) The user may contact the Customer Service of Easy Pass card, by appointing date and time in advance, and it is without any cost at…..
Easy PassFast Service
At the PTT gas station stop Bangna (outbound)
Open Mon - Sat 09.30 AM – 3.30 PM
Phone. 0 2558 9710-1
Customer Service , Bangkok Expressway Public Company Limited.
238/7, Asoke Road, Din Daeng, Bangkapi, Huay Kwang, Bangkok.
Open Mon - Fri 09.00 AM – 5.00 PM phone. 0 2641 4611
Prachachuen Expressway
Open Mon - Fri 5.00 PM – 10.00 , Sat – Sun 08.30 AM – 10.00 PM
Phone. 0 2568 8151
The user can cut it open by himself as follows:
1) Prepare the pattern (use the refill card/card board: cut into the shape of rectangle, with the width equal to the position you read the signal, that is normally behind the Easy Pass (round sticker)
2) When you have the pattern, find the position to stick the Easy Pass on the front screen, and use the original to copy it.
3) Use the transparent sticker to stick it on the front screen of the car. 4) Test by sticking the Easy Pass on the installation spot in order to inspect the signal reading position. The pattern prepared must be exactly at the same position as the spot you cut open the filter screen.
5) Cut the film according to the block of the pattern (rectangular) by using the end of the cutter to poke it out, and use some alcohol to brush the glue off.
6) Install the Easy Pass/ it is easy than you think.
Author : -